Coliseum Renovation
The Coliseum Renovation Project will restore one of the most iconic sports and entertainment venues in the world, the Los Angeles Memorial Coliseum. Built in 1923, the Coliseum is long overdue for a renovation. As part of our lease agreement, USC is obligated to make significant improvements to the Coliseum. The estimated $300 million renovation places significant emphasis on creating and improving amenities for all fans to enjoy and is scheduled to be complete for the 2019 season.
Gameday Enhancements
We are excited to share that every Season Ticket Holder will benefit from the following seating, technological and general stadium enhancements as a result of the Coliseum Renovation Project. As part of the project, we will:
2019 SEASON TICKET HOLDER BENEFITS
Discounted ticket price - savings off the per game price
Merchandise discount

One-time 20% discount at the official USC online store. Valid through 12/31/19. Discount code will be emailed to the email address on file in July.
Ability to purchase additional individual tickets at a discounted price before the general public
Opportunity to take part in exclusive Season Ticket Holder Experiences
Priority access for 2020 seating selection. Priority based on lifetime giving and consecutive years of tenure as a USC football season ticket holder.

Trojan Athletic Fund Exclusive Benefits

The Trojan Athletic Fund was founded in 1923 to provide the funding necessary to sustain the excellence of USC Athletics' varsity sports. The members of the Trojan Athletic Fund form a global group of more than 6,000 alumni, parents, former student-athletes and friends who directly contribute to student-athlete scholarships. Memberships begin at $200 annually.

In return for their investment, Trojan Athletic Fund members receive the following benefits:

Priority seating for USC Football at the Coliseum and $25 saving per season ticket
Complimentary game day parking during football season*
Coliseum Club and/or Club 33 access
Pre-sale access for additional football single game purchases
Opportunity for away, bowl, and championship game football tickets (may be via lottery)
Exclusive invitations to Trojan Athletic Fund pre-game parties
Invitations to regional Trojan Club events
Access to priority seating at the Galen Center for men's basketball
Complimentary admission to USC sporting events except football and men's basketball as well as a 10% discount at the USC Bookstore throughout the year.
Ultimate Sports Card

*Trojan Club MVP and above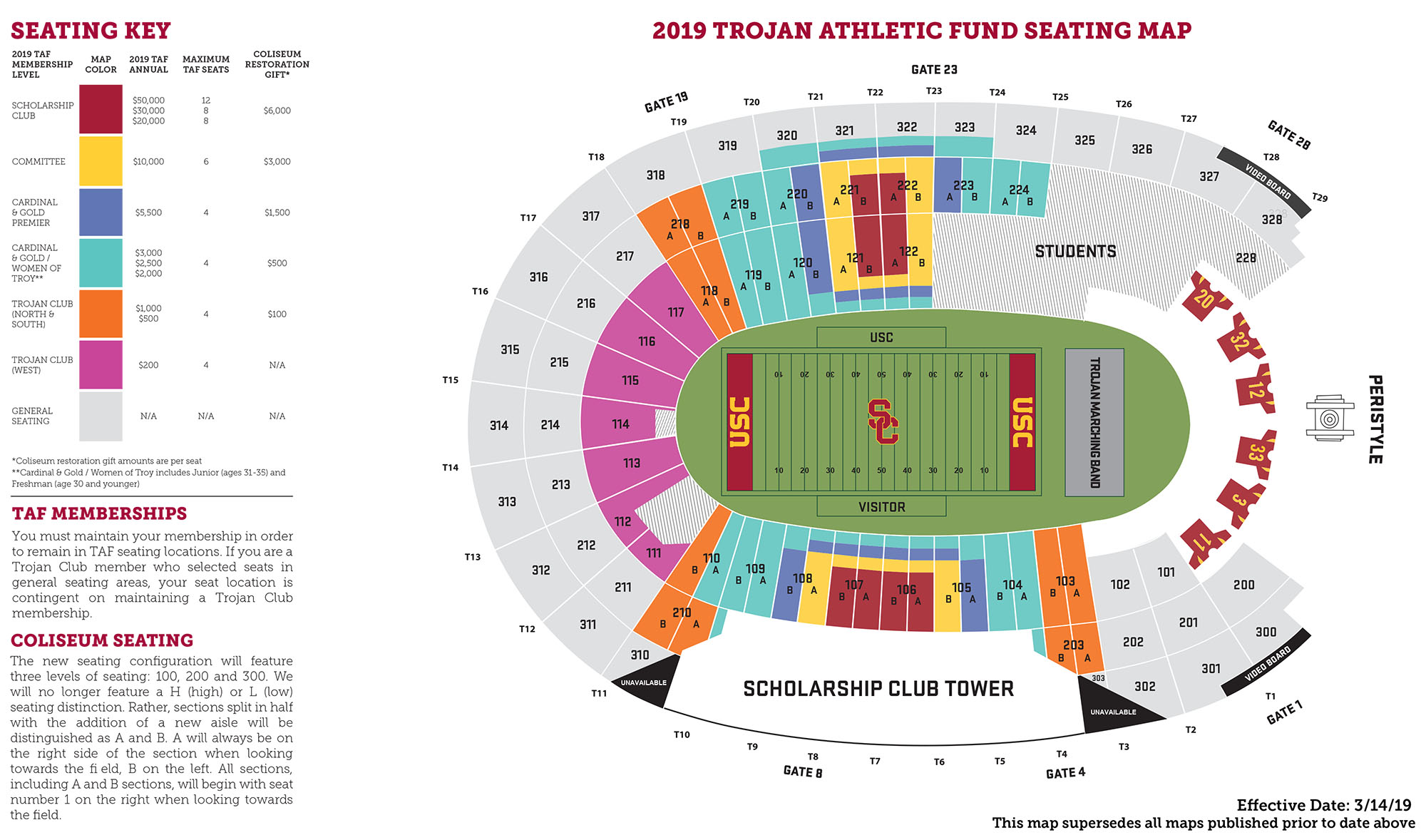 STAY CONNECTED
Subscribe to Trojan VictoryMail to receive exclusive ticket offers, updates, giveaways and special event invitations.